This page has been adopted by Mike Millhorn from Millhorn Aviation – a RC paramotor expert and accomplished  parachutist with over 2,500 jumps.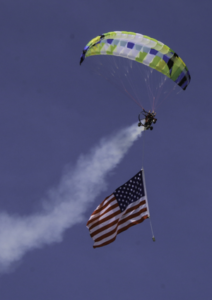 Hello. My name is Mike Millhorn and I LOVE to fly my paramotors. I will be sharing with you videos, tips and helpful hints on how to buy and fly RC paramotors.
Para-motoring is a discipline of the RC world that, in my view, is fun, exciting, and different. These models come in all shapes and sizes, from 1 pound in weight with a 4-foot wing, to 40 pounds with a 17-foot wing. At RC shows, it is a crowd pleaser, due in part to its size and spectators being able to see it much better than a 4-foot airplane going around in a circle. There are "pilots" that steer the model, and it is stable enough to allow flag drops, smoke, cameras, and even 5-pound RC skydivers to drop from it. I have found them to be "that moment of Zen" after flying a 100 mph jet around. I suspect that "moment of Zen" is comparable to sailplaning and finding that elusive thermal.
Watch Mike Millhorn in action above.
Robert Brent and I have several "learner" para-models that we are happy to teach to anyone who wants to learn.

"First, I was bored of life. Then one day I went paragliding with friends."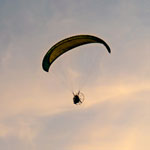 What sane "dummy" wouldn't want a motor strapped to their back vs the parachutists on the sides RC Paramotor and Paraglider terminology is often used
Read More »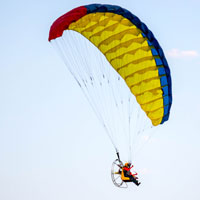 RC paramotor models range anywhere from around $150 to over $2,500 and can be found on such sites as: HobbyKing (US) Hacker Motor (EUR) Opale (UK)
Read More »